A JUSTJOBS NETWORK AND CENTRE FOR POLICY RESEARCH INITIATIVE
Small city dreaming
Stories of youth, work, and aspiration from beyond the metropolis
About the project
Examining employment outcomes of migrant youth in small cities of India and Indonesia
Even though policymakers and researchers often train their focus on megacities, small cities host large shares of the urban population in emerging economies and play a major role in supporting the development process. Today throughout the Global South, many small cities are growing faster-economically and demographically-than bigger metropolitan areas. This research project examines the way small cities shape the employment outcomes of migrant youth in India and Indonesia-the two largest democracies in the developing world.
As both countries hope to leverage their demographic dividends by employing young people in productive jobs, their small cities lie on the front lines of development challenges surrounding urbanization, migration and work. Using a case city approach with both surveys and qualitative research, the project looks at economic opportunity and job pathways in small cities, and especially the ways in which gender and migration shape the nature of these opportunities.
Further, the project considers whether current governance and policy frameworks support the ability of small cities to enable social and economic mobility-offering concrete recommendations for policy reforms toward that aim. This initiative is made possible through generous funding from the International Development Research Centre (IDRC) and the Think Tank Initiative (TTI).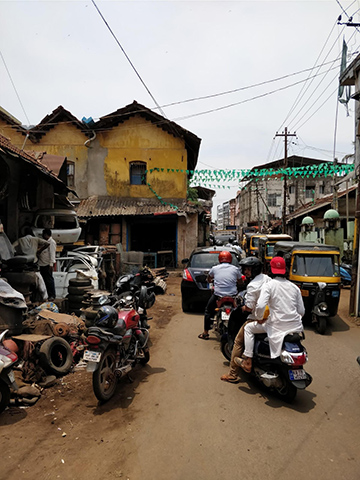 JustJobs Network is a private, nonpartisan organization finding evidence-based solutions to one of the most pressing challenges of our time: How to create more and better jobs worldwide. We produce empirical research on good job creation, focusing our work on the critical knowledge gaps in the global employment landscape.
The Centre for Policy Research (CPR) has been one of India's leading public policy think tanks since 1973. The Centre is a nonprofit, independent institution dedicated to conducting research that contributes to a more robust public discourse about the structures and processes that shape life in India.
Pusat Pelayanan Perencanaan Pembangunan Partisipatif (Center for Participatory Development and Planning) is a research center located in Diponegoro University (UNDIP), in the department of regional planning.
PIKUL is a non-profit, non-governmental organization founded in 1998 to strengthen local capacity and institutions in Eastern Indonesia. At present, PIKUL serves its mandate by facilitating "champions" and communities to create and achieve their resilient vision.

Citizen's Forum for Mangalore Development
Citizen's Forum for Mangalore Development is a civil society group that works on public awareness and accountability on a range of issues including environment, basic services and infrastructure, as well as social harmony in the city of Mangalore.
Manthan Sanstha Kotri is an NGO that works on empowering marginalized rural communities in Ajmer and Nagaur districts in Rajasthan, India. It started as a social work and research center for Barefoot College, based in Tilonia, and became an independent organisation in 1998.
Prachi Agarwal
Project Manager, JJN
Deepaboli Chatterjee
Research Associate, CPR
Zaeem Hossain
Research Associate, JJN
Dhruv Jain
Research Associate, JJN
Sama Khan
Research Associate, CPR
Eesha Kunduri
Research Associate, CPR
Pranav Kuttaiah
Research Associate, CPR
Babu Lal
Research Associate, CPR
Kanhu Charan Pradhan
Senior Researcher, CPR
Divya Prakash
Research Associate, JJN
Shamindra Nath Roy
Senior Researcher, CPR
Rimjhim Saxena
Research Associate, CPR
Abhishek Sekharan
Research Associate, JJN
Irfan Sofi
Economist, JJN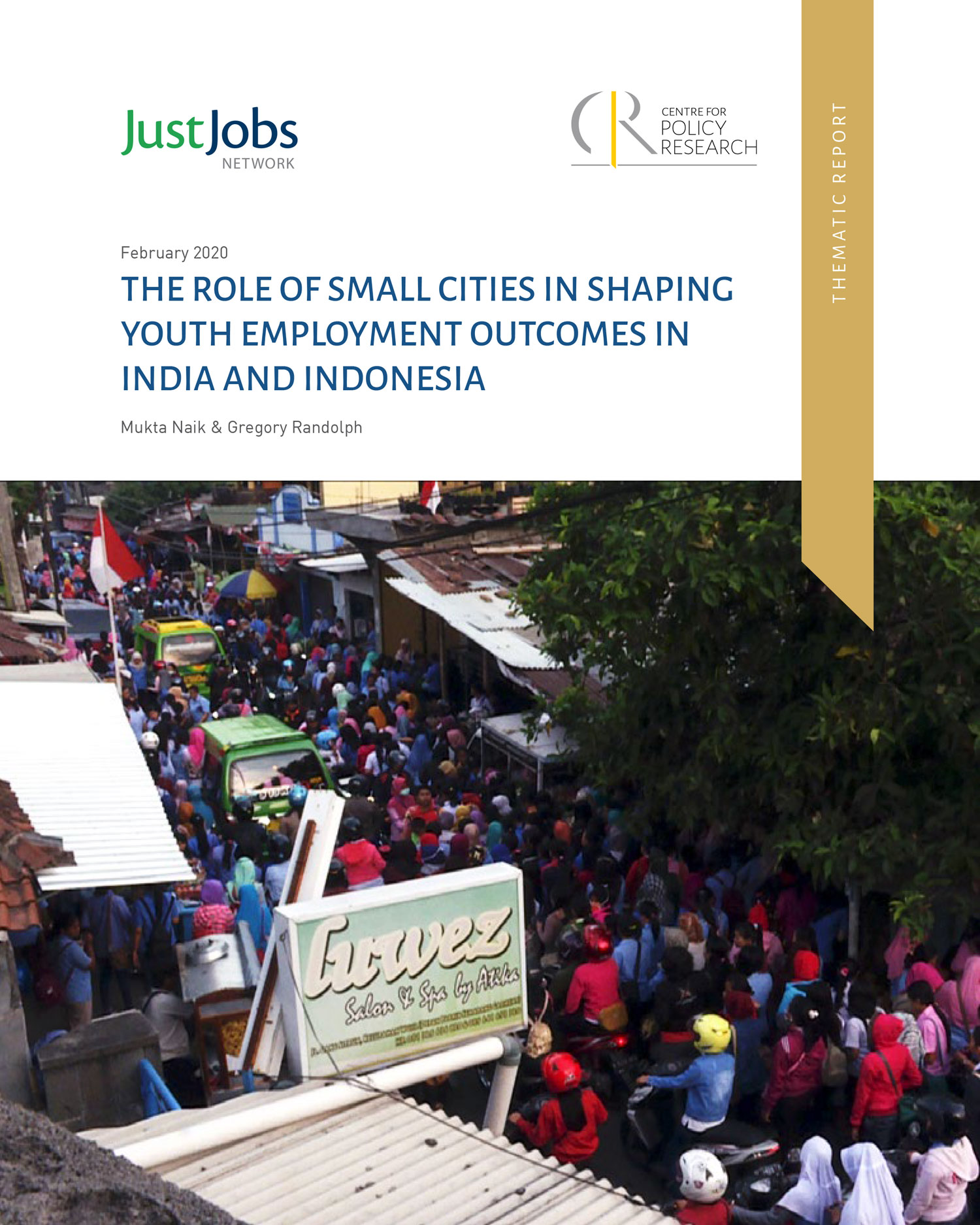 Thematic report
The role of small cities in shaping youth employment outcomes in India and Indonesia
Across the world, many emerging economies find themselves at a critical juncture known as the "demographic dividend". This report argues that the demographic dividend actually lies in spaces that have been overlooked: Small towns, secondary and tertiary cities, 'rurban' settlements, and corridors of urban transformation. These "small cities" lie on the front lines of the demographic dividend opportunity and challenge.
Documentary Film
Small City Dreaming is a documentary film about the working lives of young people in small cities in India and Indonesia. The film has been made as part of a collaborative research project by the Centre for Policy Research and JustJobs Network which seeks to highlight the role of small cities in the migration and employment trajectories of youth.
Introduction to 4 case cities
The clip introduces the four case cities where detailed empirical evidence was collected for this project: Kabupaten Semarang and Kupang in Indonesia and Kishangarh and Mangalore in India.
Sonam
In Kishangarh's deeply patriarchal society, Sonam's story tells of the ambition of young women who chart new pathways without disregarding tradition.
Vivek
Besides passion, talent and hard work, young entrepreneurs like Vivek also need patronage to succeed. They eventually seek to give back to their communities by creating opportunities for others.
Podcast
Mukta Naik and Gregory Randolph discuss their research on the role of small cities in shaping youth employment in India and Indonesia on the 30th episode of the CPR podcast, ThoughtSpace, focusing on how their findings can feed into policy on employment and urban governance.